Spinning wheels has a significant place in Gammeldags. They are available in various models and with varied age and origin.A spinning wheel is considerably more modern and is made from farm-lord after a newer model. All the spinning wheels are in good condition and is used extensively by the housewife.The wool spun comes largely from the farm's sheep (read more under the heading of sheep). The largest part of the handspun yarn is knitting yarn that can be used for all sorts of garments.
Weaving yarn, used in fell-quilts, throws etc. is another big part. To spin your own yarn is a craft that today is practiced by an increasing number of people as a hobby, from being an exclusive craft practiced by a few enthusiasts (like myself). There is nothing that compares to, after all the work of sorting, washing the wool, carding and combing of the washed wool,to sit down at the spinning wheel and spin a number of meters yarn.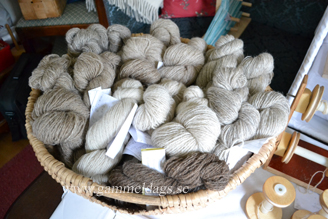 There is no fast way to fill a spinning bobbin. 3.5 ounces (one hg) of singles in coarseness Nm 4 -5, takes about three hours to spin. Then comes plying to make yarn two-, threeply or more. This will probably make it more understandable that handspun yarn or products made of handspun yarn is more exspensive than those from millspun yarn.